We have created the largest frequently asked questions for the entire Bumble platform. The posts below are from us asking hundreds of singles about their most wanted answers for the entire dating app. Dating apps can be a minefield, we've tried to help you make some sense of them!
We also have a Tinder and Hinge FAQ pages!
Dater Help was created by James Langton - Tinder's official most 'Right-Swiped' Male. Please feel free to contact James if there's a dating app or general dating question you have!
General Bumble overview
Can I use Bumble during Coronavirus? (COVID-19)
---
Before I get into the post, I just wanted to say what a fantastic job our NHS, emergency services and key workers are doing. You are inspiring so many. I think I speak for everyone when I say we are grateful for everything that you are doing. If you find you are struggling with isolation and just need someone to talk to, please feel free to reach out to me via the contact page. We can arrange an informal chat via Facetime. No matter who or where you are from it would be great to speak to you, truly. Ah, social distancing can be very difficult. You've watched everything on Netflix, ate just about everything in your cupboards and the highlight of your day being a trip to the fridge. If you are struggling, it's ok to feel sad or anxious sometimes. Keeping a schedule, writing a diary, opening the windows and making sure you get your daily exercise (if you are allowed) is incredibly important. While we don't know how long this could go on for, it's important to keep on trucking with the world of online dating, but with a few changes... 1. Should I go out to meet someone I have matched with from a dating app? No, seriously. It's not worth it. 2. I have been speaking to someone new that I haven't met yet, I don't want it to fade. Keeping things 'fresh' isn't as easy when you are not physically able to meet the person. Sadly, many online-dating conversations dry up purely because there's not enough interest from one person or both. Try talking over the phone or even Facetiming your match. Making the best out of a situation like this can be quite a lot of fun! Why not ask your date whether you should both dress up as if it were a real date? It would be a talking point and a lot of fun! Introducing your pet to your date is also a fun idea. This is also a fantastic time to see whether you and your date 'click' and whether meeting up 'in the real world' once all of this is over is worth it. 3. Is using Bumble during Coronavirus even worth bothering? Yes and yes. Human connection is important and you find beautiful things grow from the unlikeliest of events. (ahhhh, how romantic) 4. Can I invite my Bumble date over? Nope, you shouldn't invite them over in any circumstances. While it may be tempting to have a little Netflix and Chill evening, you are doing your bit by distancing yourself from other people. Once all of this is over, you can Netflix and Chill until you are blue in the face. 5. Which dating apps should I use? Tinder, Bumble and Hinge are 'the big 3' which I can recommend you try. Many people are joining or using the app more during this strange time. Get swiping! Once again, thank you to all the amazing people working so hard to keep us safe. I hope you stay safe, too. Feeling like your dating profile could do with an overhaul? Book our service here If you feel you're in need with some online dating coaching (by me!) you can book in a consultation or coaching session here
---
What is Bumble?
---
Bumble is an app that is free to download on the iOS and Google Play Store. Bumble has 3 types of use; Dating, Finding friends, and Networking. You can switch between all 3. Bumble is unique in Women must make the first move of conversation. This has been revolutionary in the dating app industry as it has the highest levels of engagement with other users.
---
Is Bumble free to use?
---
Yes, but only for basic features. Bumble also offers premium features such as Bumble Coins and Bumble Boost. Bumble Boost Boost unlocks features such as seeing the users who have already swiped on your profile, rematching with your connections that have expired after the 24 hour perious and extending your current matches for an extra 24 hours. Bumble Coins Bumble Coins is our in-app currency, which allows our users to purchase features such as SuperSwipe or Spotlight. Need help with your Bumble account? We offer multiple services!
---
Can Bumble be used anywhere in the world?
---
Yes, you can download it in the iOS App Store or Google Play Store globally. The amount of Bumble users in your area will vary.
---
How old do you have to be to use Bumble?
---
At least 18 years old.
---
Can people out of my age range see my Bumble profile?
---
No, you can only see the profiles of people within your age range and vice versa.
---
Howcome I don't get as many matches on Bumble as I used to?
---
Don't worry, this happens to everyone. When you first sign up to Bumble, their algorithm will put your profile to the top of the stack for everyone within close vicinity to you. Depending on how many people swipe right/left on you, it determines how popular you are on the app. Bumble's algorithm will then rate you and choose who it does/doesn't show your profile to. When you download the app, Bumble doesn't have much data about your profile, so it's slowly building this up. Their algorithm takes many things into account; your choice of profile photo, what is in your profile bio, how many messages you send on, how many profiles you 'right-swipe' etc. Need some help getting more matches for a better Bumble experience? Check out our services

---
Do all my photos have to be from my Facebook account on Bumble?
---
No, you can select photos from your phone to use on your account.
---
Does Bumble show profiles that are inactive?
---
Bumble will show you the profiles of people who were most recently active. The app wants you to interact with people who are part of their community, who reguarly swipe people and chat to them - this is what keeps you going on the app! If you keep swiping through the deck and eventually get to older profiles, some people may have deleted the app and they won't reply. Deleting the app does not delete your matches or people seeing your profile. You have to delete your account for that to happen.
---
Does deleting the app delete my Bumble profile?
---
No, people can still swipe on your profile and message you if you are matched. You need to delete your account if you want all of your info taken off the app.
---
Why am I not getting any Bumble matches?
---
Your account could be bugged! Try resetting your Bumble account. Delete it and start again.
Your profile photos aren't the best and people are simply not wanting to match with you. Make sure your photos are showing you in the best light!
You've been right-swiping every profile! Tinder will see this as spam and will discredit your account.
Your bio might have something that is putting people off! It could be a photo you have posted or something in your bio.
There may not be enough active users in your selected area.
Need some help with getting more matches? We offer multiple services
---
I saw someone I know on Bumble, what should I do?
---
Well, if you find them attractive, you should match! Don't right-swipe them if you don't wish to speak to them in a romantic was, as it's not fair to get someone's hopes up when you have no interest in them.
---
Should I use a selfie on Bumble?
---
Try and avoid using a selfie. Front-facing camera quality is not as great as the rear camera, and the angle and lighting is not as good. Having a family or friend take a photo of you in low sunlight and looking directly at the camera and smiling will gain you the best results on the app.
---
How long does a match last for on Bumble?
---
A match in Bumble lasts for 24 hours. The app requires the Female to send the first message within that 24 hour match time. If no message is sent, it times out.
---
Can peolpe on social media see that I'm using Bumble?
---
No, Bumble does not post on to any of your social media profiles and people can't search that you are using the app. However, your profile is on view to all those who are using Bumble, so just be careful that you are on the app for the right reasons.
---
Can I use Bumble on my desktop computer?
---
Yup!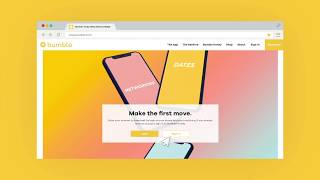 Head to www.bumble.com to use it Enjoy!
---
Why has a Bumble match disappeared?
---
The user has unmatched you, or the profile has been deleted by the user or Bumble.
---
Does Bumble penalize you if you Like every profile?
---
While Bumble's algorithm is much more complex than Tinder's, the likelihood of the app reducing your internal ranking when you consistently like every profile is highly likely.


---
---
How does Bumble work?
What is Bumble private detector?
---
Bumble's algorithm determines the content of a photo. If you try and send a lewd photo, the app will recognize what the photo is and warn you that it's a lewd photo. When your match received the photo, they will be asked whether they would like to see the photo as it has been flagged.
If they choose to decline the photo, the photo will be deleted and you will be automatically unmatched from the user. You could then be banned from using the Bumble platform. Consent is key here! There's nothing wrong with swapping naughty photos with your matches, just so long as you are both consenting to it.
---
Can you get Bumble match back?
---
Yes! Expired matches will appear in the app again. You'll have another chance to match with your expired Bumble match. You can also rematch straightaway by purchasing Bumble Boost.
---
Can gay users use Bumble?
---
Yes! Bumble is for everyone. With heterosexual matches, it's the woman who has to make the conversation. With same-sex matches, either person can make the conversation.
---
Are there rules for using Bumble?
---
Yes, we've taken this directly from Bumble: Upload only your own photos We take copyrights very seriously. If you don't own the rights to a photo or video, please don't post it. Same goes for dogs. If the dog isn't yours-- don't post it…(only joking!) Respect all users We're a very diverse community. This means you should respect other people's beliefs, interests and property while on Bumble. Bumble takes a strong stance against hate speech, rude or abusive behaviour, bullying, and misogyny. You should behave the same way on Bumble as you would in real life. Additionally we encourage all of our users to report anyone who does not follow these behavioural guidelines. As a community rooted in kindness and respect, we expect all of our users to respect each other, themselves, and the Bumble staff. Send original messages to other users We strongly advise against copying and pasting the same message to every connection. We encourage our users to read profiles, learn about other people's interests, and send an appropriate, relevant message to each match. We promise this will increase your chances of engaging in interesting conversations. Don't pretend you're someone you're not As previously stated, do not post photos that are not of you. We also recommend using our photo verification tool to let other users know that your profile is legit. Bumble photo guidelines:
No kids on their own. They must be in the photo with an adult, and fully clothed.
No photos in bikinis/swimwear indoors.
No pictures in underwear.
No Shirtless/underwear Mirror Selfies.
Face must be clearly visible in all photos.
No watermarks or text overlaid.
No pornographic material.
No graphic hunting photos.
No guns.
For more details on our photo moderation guidelines, please visit this link: http://bit.ly/2xUcBy6

Bumble BFF specific guidelines:
Bumble BFF is for friendship only. Anyone seeking romantic connections must use Bumble instead.
No kids on their own. They must be in the photo with an adult, and fully clothed.
No photos in bikinis/swimwear indoors.
No pictures in underwear.
No Shirtless/underwear Mirror Selfies.
Face must be clearly visible in at least one photo.
No watermarks or text overlaid.
No pornographic material.
No graphic hunting photos.
No guns.
Bumble Bizz specific guidelines:
Bumble Bizz is for networking and business connections. Anyone seeking romantic connections must use Bumble instead.
No photos in bikinis/swimwear
No pictures in underwear.
No Shirtless/underwear Mirror Selfies.
Face must be clearly visible in at least one photo.
You can upload your portfolio or work samples.
Watermarks are okay.
No pornographic material.
No graphic hunting photos.
No guns.
No soliciting, this includes coupon codes & sales links.
No personal contact information in photos or bio.
Don't do anything illegal on our site
Illegal activity will not be tolerated on Bumble. This may result in being banned from the site, and/or being reported to the authorities.
No soliciting
Bumble isn't for selling things. If you try to use it as a marketplace, you'll be banned.
No kids on their own, they must be in the photo with an adult & fully clothed
Bumble is for 18+ years, therefore we don't allow kids to be alone in photos as representatives of their parents on Bumble. In addition, all children must be completely clothed. This is safer for both children and their parents.
If you don't follow these guidelines, you'll receive a warning (unless our team decides to block without warning at our discretion). If you ignore this warning, you risk losing your account. These guidelines are designed to make Bumble a friendly and safe place for all our users.
---
---
Have a question about Bumble or other dating apps that is not listed? Ask and we'll answer!